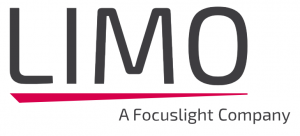 Since its inception in 1992, LIMO GmbH has been one of the world's leading manufacturers of optics and beam shaping solutions, as well as a pioneer of groundbreaking new photonics production technologies. The company develops and produces high-precision micro-optics for diode lasers, industrial laser systems for innovative materials processing, and complete optical systems for efficient production processes that use linear laser beam profiles. LIMO is headquartered in Dortmund, Germany, and currently employs 230 people. It maintains a presence in a large number of countries through its partner and distributor network, and it also has a representative office in China with an in-house application lab. The company has been part of the Focuslight Group since March 2017.
Products and solutions
In the field of optical components, LIMO is currently one of the world's major suppliers of glass cylindrical lenses thanks to its highly productive wafer-based manufacturing technology. LIMO specializes in precision optics for all diode laser types (single emitters, bars, and stacks) and all power classes. LIMO's portfolio of optical components includes Fast Axis and Slow Axis collimation lenses, beam transformation systems, collimation modules, fiber couplers, homogenizers, compact beam shapers, and microlens arrays.
The cost-efficient wafer-based production technology with wafer sizes of up to 300 x 300 mm² makes it possible to produce tens of thousands of lenses from high-grade glass and crystal in a single process step, with a consistently high level of quality. LIMO is the world's only manufacturer to offer large-batch production of glass FAC lenses on wafer sizes greater than 100 x 100 mm². Combined with a significantly expanded production capacity, LIMO's highly productive and cost-efficient operations mean that the company can continue to meet the growing global demand for optics in innovative photonics- and laser-based applications and technologies well into the future.